Silent PSU Technology from Seasonic
SILENCE! – The most powerful fanless power supply
Silence is golden. But in this case, it's actually better – it's Titanium! Titanium is better than gold for many things – but in a silent PSU, it means ultra-high efficiency. (94 % efficiency at 50 % system load.) Combine that with fanless operation and therefore basically silent operation, and you can see why Seasonic are proud of their Prime 600 power supply.
"The unit not only is rated to be 80PLUS Titanium efficient, but it also has the highest power output of a fanless PSU on the market. The power supply is ideal in any situations that demand silence from the equipment. The high-quality components inside and the innovative circuit design result in clean and stable power output. The fully modular cables allow for better cable management in the computer case." I like the plugin cable design, it allows computer manufacturers or hobbyists to only install the minimum of cabling and thus reduce clutter and improve air-flow within the chassis.
"Flexible cabling allows for better air-flow and enhanced cooling for the entire system. It also reduces any turbulent air flow noise from wires."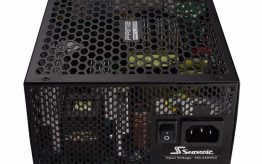 Silent Power
80 PLUS® Titanium certified
Micro Tolerance Load Regulation (0.5 %)
Totally Fanless Design
600W supports:
Multi-GPU setup
Gold plated connectors
12 Year Warranty
Fan-less Silent PSU 600W
Using a fanless silent PSU in your system allows so much freedom. If you select a fanless GPU and use a passive heatsink on the CPU, you can make an almost literally silent PC for gaming, DVR or desktop use.
The reductionof noise in a workingenvironment can improve productivity and reduce stress.
I know that anyone using such a supply is going to be thinking… but when will it fail?
Seasonic has you covered with a TWELVE year (12!) warranty.
I have no affiliation with Seasonic. ACME portable uses their supplies in some of their systems, and they used to inhabit the same building as ACME & Portexa, but this supply is just a nice piece of engineering, so I hope you like it.