Three Screen Portable Training Computer
These days, the ability to play video, run training scripts and collect student responses does not need an uber-pc. If we are honest there is probably performance enough in your phone. But the display size and supervisory management of a phone make it impractical for use as a teaching or training aid. Now there is a triple screen portable (not a laptop, but not *that much bigger*), with enough performance to be a great training computer. It's made for Portexa by ACME portable and utilizes a version of the three screen folding mechanism found on their higher-end military computers.
If you need more power – like a Xeon and 8 Ethernet ports as standard, try the NotePAC-III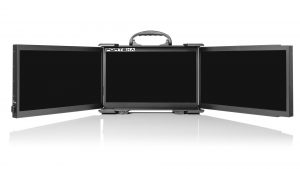 BCCD-C
Three 17″ HD screens. "Bifold Command and Control Display – Computer version"
(Displays only version BCCD-17 info:here)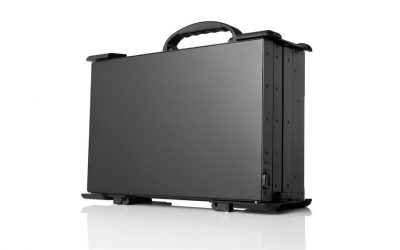 Closed for transport
Compact and lightweight, the BCCD-C can transform into an immersive training experience.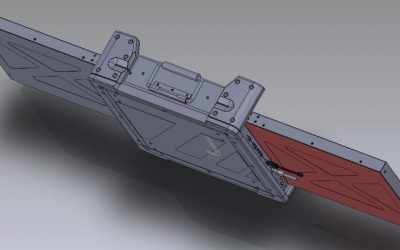 Rubber corner protectors
I/O for the computer ports are on the left-hand side as you face the display.
Designed to be a pleasure to use, while still being robust and reliable, the BCCD-C (Bi-Fold Command and Control Display)-Computer is a medium power, high utility computer system.
Functionally similar to many desktop PC's the BCCD-C provides three HD widescreen displays in a compact package. It is perfect for general use or a training system which requires compact dimensions and a robust package.
The video above shows the display only version of the BCCD. The computer version is the same size but has computer i/o where the video inputs are on the side of the unit.
Specifications:
Intel Core i3-6100T Processor (3.2GHz, 3MB cache, 2 Cores)
Intel HD Graphics 530
8GB RAM
500GB 7200 RPM 2.5″ HDD in removable cannister
Desktop keyboard and mouse
3 x 17.3″, 16:9 displays
1920 x 1080 resolution
Brightness: 300 Nits
Contrast: 500:1
Color: 262K (dependent on display input and graphics card)
Backlight MTBF: 10,000H (25C+/-5C)
Power: 90W, 100-240VAC, 50/60Hz
Dimensions: 12.37″ x 17.14″ x 6.21″ (H x W x D) (47.61″W – fully open)
Weight: 26 lbs appx
Operating Temperature: 0-50C (32F-122F)