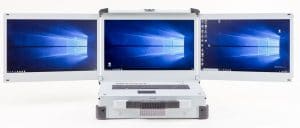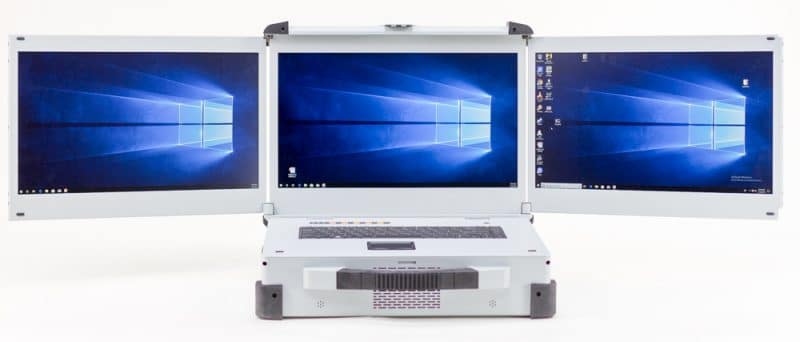 Rugged three screen laptop with:
3 x 17.3″ HD displays
12 Core Xeon processor (D-2166NT)
2 x PCIe expansion slots (x16, x8)
Optional Nvidia Quadro 4000 graphics
Backlit keyboard
Integrated CAC card reader
Eight Lan ports – 2 Fiber SPF+ 10G, 2 RJ45 10G, 4 RJ45 Gigabit.
Up to 512GB RAM
Aluminum alloy construction
Mil-Std shock, vibration, temperature and transport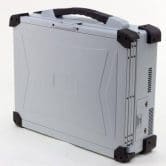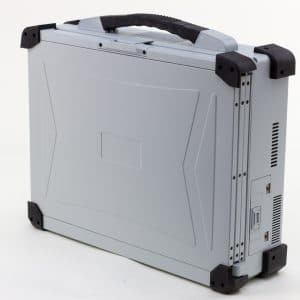 Three Screen Laptop
"Everything you could want in a 24lb laptop! Plenty of cores (12). Four removable 7.6TB SSD's. Nvidia Quadro P4000 graphics. An open PCIe expansion slot for your needs."
For even more performance see MilPAC-III

A Heading
There are eight LAN ports and an IPMI port on the rear panel! Two 10G SPF+ ports (fiber), two 10G RJ45's, four 1Gig RJ45's. There's also an IPMI port for remote management of the system. All ports are protected behind a hinged door for protection during transport. The fiber ports allow for the attachment of a local or remote NAS device to greatly expand the storage capacity for enterprise and tactical mission systems.

Another Heading
The heart of the system is an Intel 12 Core Xeon Processor with up to 512GB RAM. TheIntel D-2166NT has 12 cores and 24 threads running at up to 3GHz, with 17MB of cache.
Two expansion slots (one optionally fitted with an Nvidia Quadro-4000) are x16 and x8. Maximum card length is 9.5″

Yet Another Heading
Three HD displays fold neatly for transport. 5760 x 1080 scene space. An optional Nvidia Quadro P4000 professional graphics card means there is plenty of power to drive the three displays with full motion video, 3D visualization or geospatial imagery. The second slot can be fitted with a video capture card for real-time capture and analysis of drone video etc.
Available with four removable SSDs to give 30TB of removable storage, the NotePAC is a powerful portable server-grade three screen laptop.
For more information see NotePAC