Maximum performance portable
Triple screen 24″ portable computer –
Portexa FlexPAC-III-24
"The most powerful portable computer on the planet!"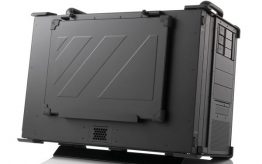 Tech Spec
3 x 24″ 4K or 2K displays
Dual Xeon
Touch screen option
Massive RAID
Biggest Screen Portable – 3 x 24″
There is no getting away from the fact that this is a big portable. It's the biggest screen portable! It's also the most powerful portable on the planet. Three 24″ 2K or 4K displays and a full-sized motherboard which allows for up to dual Xeon processors.
Touch screen displays which are available in 2K and ultra-high resolution 4K displays.
Extended ATX motherboards mean the choice of Intel i7 or Dual Xeon processors. There is plenty of space for the largest and most powerful graphics cards – for CUDA use or to drive the three 4K displays.
A wheeled transit case is supplied as standard, and fully deployable shipping cases are also available. Tilting feet improve the ergonomics of operation for the use, and a full sized keyboard makes this a comfortable transportable workstation.
High performance cooling
Up to dual Xeon processors using forced air cooling and thermostatically controlled fan systems.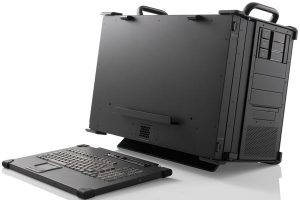 Full size keyboard
The detachable keyboard attaches to the front of the system when the displays are closed for transit.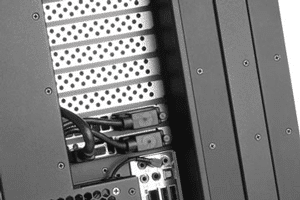 Massive expansion
Multiple slots with an EATX motherboard allow for highly flexible configurations.