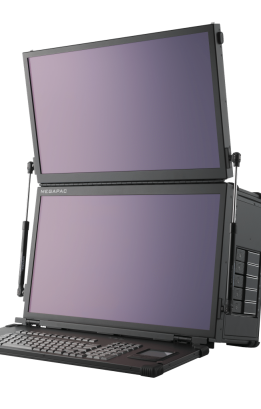 "A transportable workstation with 4K displays and Intel i9 power? Incredible!"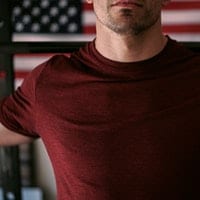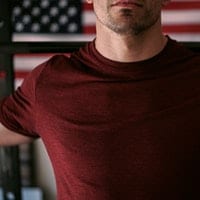 Deployable Workstation
Dual Screen MegaPAC transportable workstation
The ultimate in performance requires some sacrifice. In this case, the MegaPAC asks you to forgive the 60lb weight and the over-sized transit case. It makes up for the slight inconvenience by having dual 4K monitors and the latest Intel i9 or Dual Xeon processors available. With room for three top-end graphics cards, there really isn't another compromise.
A full sized keyboard, with numeric keypad and touchpad. Five removable 3.5″ drives. An 850W or 1KW power supply.
Typical uses are found in broadcast, civilian command and control for disaster relief coordination, Military C4ISR and Cyber security across markets.
Dual gas struts make opening and closing the top display enjoyable, and the displays lock shut for transit.
MegaPAC is available with either HD or 4K displays, and is fully customizable for your application. Many customers like a 4K display on top, and an HD panel for control below.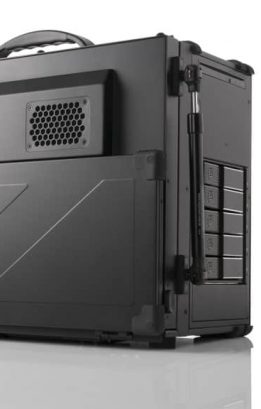 Transportable Workstation
Dual Xeon Power
Deployed in a console-style upper and lower display arrangement, the displays can be HD or 4K resolution.
Technical specifications – up to:
Dual E5-2699 V4
44 cores, 110MB cache
60TB storage
High end RAID
Space and power for top graphics
Optional fiber connection
Height: 15.12″,
Width: 23.11″,
Depth: 9.02″
Weight – appx 60lb (spec dependent)
"The most powerful portable on the planet."