Biggest 1U rack mount display
23″ 1u rack-mount display.
"We need to put a big display, keyboard, webcam, CAC card reader, microphone, and some audio pass-through connectors in a rack – which we will then transport and deploy in a tent.
Oh – and the screen needs to be 23″, HD.
and… it all has to fit in a standard 1U rack-space."
No problem!
23″ HD Display
1920 x 1080 23″ diagonal display.
19″ RacK, 1U
1U is 1.75″
This thing is thin.
Backlit KEYBOARD
L or R mousepad
CAC Readers
Dual CAC card readers.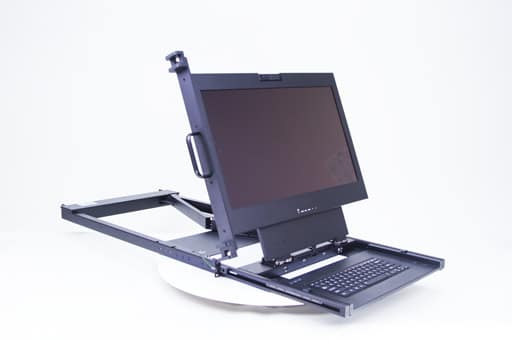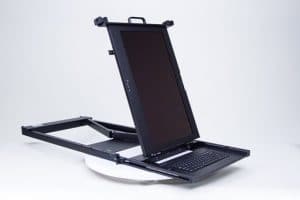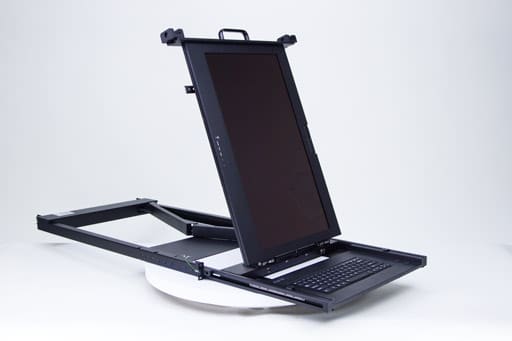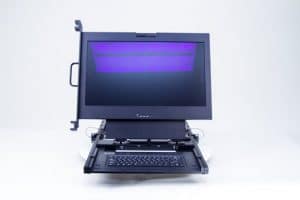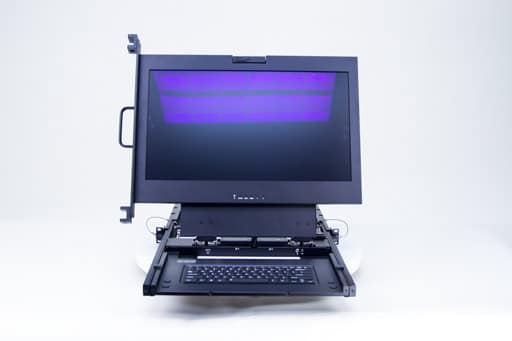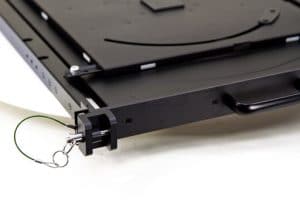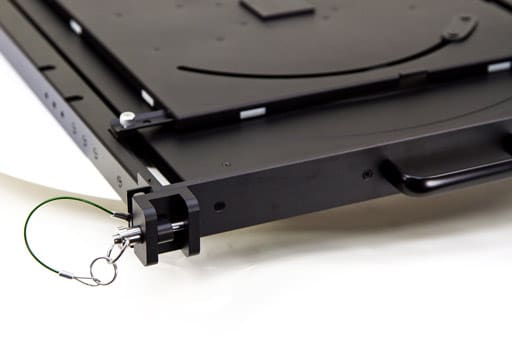 Workstation rack mount display – 1U
The RMSDU-1U-23 is the largest rack-mount available for a 1U rack-space. It comes with a ton of functions integrated into a very small device. Operationally it was specifically designed to minimize the space required in front of the rack.
23" LCD 1920×1080 resolution with:
Built-in 1080p webcam up/down adjustable
Microphone 3.5mm pass through to I/O panel
Audio 3.5mm pass through to I/O Panel
Keyboard with:

2x built-in CAC readers
Ambidextrous Mouse shelf

I/O Panel with:
Keyboard dedicated USB 2.0 port
Mouse dedicated USB 2.0 port
Webcam dedicated USB 2.0 port
Microphone 3.5mm pass through to monitor
Audio 3.5mm pass through to monitor
The ambidextrous mouse shelf allows the use of a real mouse, with a dedicated USB pass-through. In fact, all of the interfaces are designed to connect directly to a USB port on the host computer. This eliminates any start-up issues caused by the use of USB hubs. The integrated webcam is also an unusual feature in industrial grade displays. The RMDSU-1U-23 integrates one that has a tilt mechanism and full HD performance along with a high-quality built-in microphone.
If you need a 1U rack-mount display and would like the largest monitor possible, consider the RMSDU-1U-23.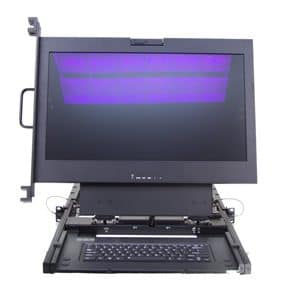 RMSDU-1U-23 – 1U Rack Mount Display
If you need more display space and have 2U spare, see the RMDDU-23